25 août 2012
6
25
/

08
/

août
/

2012
00:43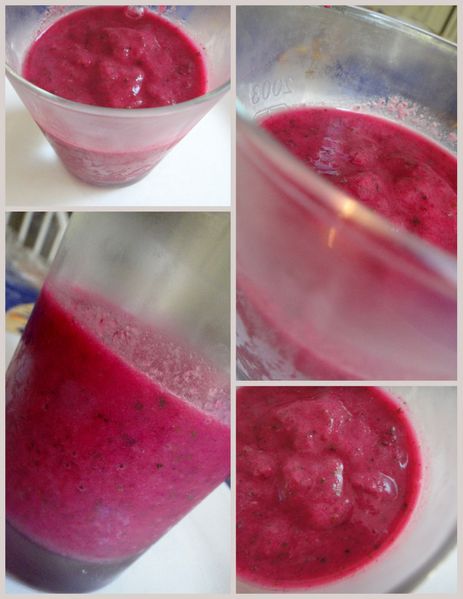 This is for the 'health' nut :-) It's refreshing and amazingly tasty.
No cooking involved, all you need is a blender !
Ingredients:
- 2 parts fruit ( we had some frozen organic peach, mango pineapple from Costco and some cut up frozen
bananas so in they went :-)) Banana is a key ingredient.
- 1 part beet and kale
- some organic almond milk
Preparation:
- Peel and cube the beets into 1/2 inch cubes
- Wash and cut kale leaves into small pieces (or buy them precut, but make sure you remove all
the hard stems)
1. Add the kale to the blender, top with almond milk and blend well.
2. Add the beets, adjust the amount of almond milk, blend then add the fruit -I like to keep the almond milk almost leveled with the fruit- and blend well.
II used the 'food chop then 'high' setting, stopping once in a while to 'help' the blender with a fork to move the pieces
of fruit down'. You can add more almond milk if it feels too dense.
Once everything is chopped I hit 'high speed' on the blender a couple of times to mix it well, and serve the
smoothie ice cold.
The super health nut can add a bit of whey protein t the smoothie (at the beginning), and the sweet tooth babes can add a bit
of honey or algave to taste (at the end, before serving)
A yummy snack for a hot summer afternoon ! Enjoy and have a happier summer :-)