8 juin 2008
7
08
/

06
/

juin
/

2008
03:53
Why not? :-) Just pop them in your mouth and ... revel in the sweet and tangy taste of Meyer Lemon and strawberry ice. And, they are cute as buttons to boot :P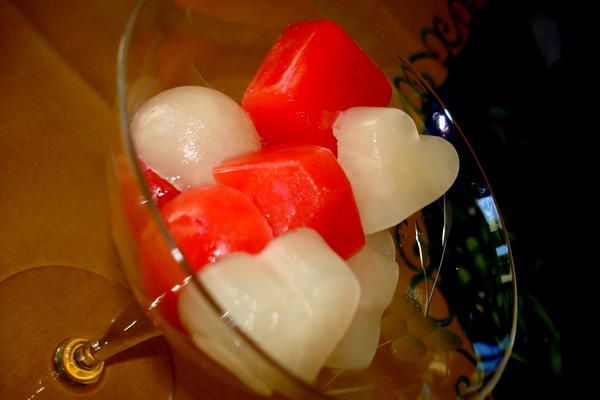 Ingredients:

- 1 cup of water
- 1/2 cup of sugar
- 1/2 cup of Meyer lemon juice - strained
- 1/2 pint of pureed strawberry for the fuchsia strawberry lemon ice
Preparation:

1. In a small saucepan, bring the water and sugar to a boil. Reduce the heat and simmer, stirring occasionally, until the sugar dissolves. Remove from the heat. Let cool completely.
2. For the lemon popsicle bonbon, pour the mix into a cute ice cube tray and freeze overnight.
3. For the strawberry popsicle, wash and hull the strawberries, quarter them and puree in a blender and add to the the lemon juice. Stir well to combine, pour into the ice tray and refrigerate until frozen, overnight is best
4. Pop them out and serve immediately.