11 juin 2008
3
11
/

06
/

juin
/

2008
15:23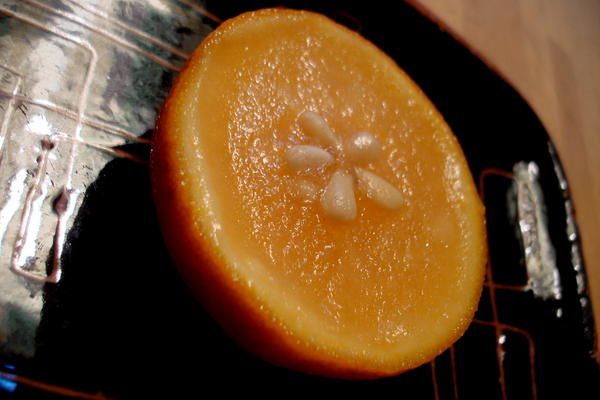 This is what I did with the last harvest of oranges ... yumyum.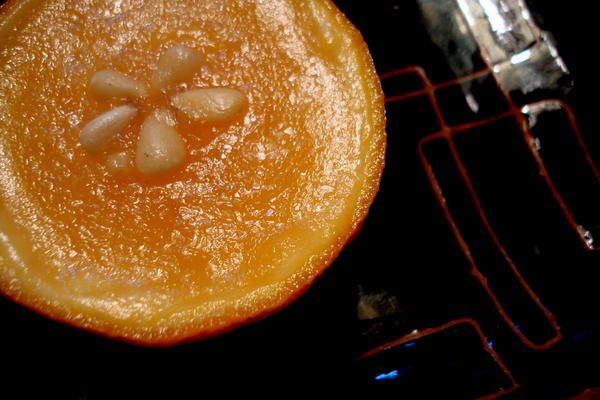 Ingredients:

2 servings
- 1 cup of water
- 1/2 cup of sugar
- 1/2 cup of orange juice (freshly squeezed, strained)
- 1 Tsp lemon juice (optional)
- 2 tsps of Grand Marnier
- Pine nuts for garnish (idea copied from
Simple to Spectacular
, by Jean-Georges Vongerichten & Mark Bittman' - they do look like real orange seeds don't they? and they taste fabulous too ! )
Preparation:

1. Slice a tiny bit off of the bottoms of the oranges so that they can sit straight (relatively speaking). Cut the oranges in half. With a grapefruit knife, scoop all the flesh out of each (pic 5). Freeze the orange shells.
2. With your hands or the back of a spoon press as much of the orange juice as you can out of the scooped out flesh and measure 1/2 cup..
3. In a small saucepan, bring the water and sugar to a boil. Reduce the heat and simmer, stirring occasionally, until the sugar dissolves and let cool. Add the strained orange juice, stir, let cool completely (pic 3)
4. Add Grand Marnier. Stir well to combine and pour into ice cube trays and put in the freezer.
5. After an hour or so take out, use a fork to fluff the ice up. Fill the orange half, place the pine nuts in the center of the orange and re-freeze
6. Remove from freezer a few minutes before serving.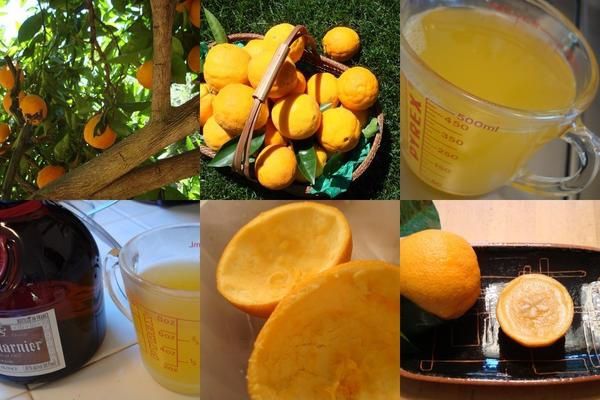 Fill a cute ice cube tray with any left-over orange GM mix and freeze and you will have some orange GM popsicle bonbons.... trop bon aussi :)